Hotels in St.George Utah Conference Rooms
The Perfect Place for Your next Business Meeting
Our convention and conference center is the perfect place to hold your next business meeting, convention or special occasion. We have facilities for up to 200 persons, private meeting rooms, and catering services is available.
If you are looking for a place to hold a wedding reception or wedding breakfast, our convention and conference center is the perfect place. With our exceptional catering service we can make this special event memorable for years to come.
We also offer golf packages, and special Senior Citizen, commercial and tour rates.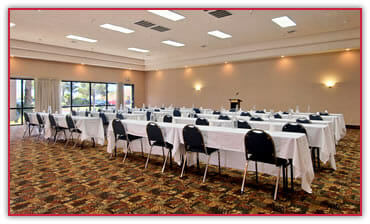 Private meeting rooms and catering available
Enjoy Elegance, Comfort and Service in St. George, Utah
MEETING/BANQUET FACILITIES
Meeting and Banquets to 165
2,000 sq. ft. of meeting space
Convention Center with seating to 165
Meeting Room with seating to 65
Executive Board Room accommodating 20
MEETING EQUIPMENT/SERVICE
Podiums, microphones, VCR's, screens, chart easels and pads, dry erase boards, markers and erasers.
Meeting support staff
Business support services, photocopying, faxing, shipping service, courier service, luggage storage.